Rocking pneumonia
Received: 10 October 2017
Accepted: 12 November 2017
Published: 15 December 2017
In 1926, Virginia Woolf published an essay "On being ill", in which she wondered why "illness has not taken its place with love, battle and jealousy among the prime themes of literature" [1]. Illness has not been a prime theme of literature, or music lyrics, for that matter, yet it has a significant impact on the human condition. Pondering this oversight, Woolf specifically called for odes to pneumonia, novels devoted to influenza, epic poems to typhoid, and lyrics to toothache.
Now, more than 90 years after Virginia Woolf's essay, this question regarding illness's representation in literature can be addressed with modern search techniques. The lyrics database www.lyrics.com considers itself "the web's largest resource for music, songs and lyrics" and it is the latter functionality that was used for this research into how illness—specifically pneumonia—has been represented in music lyrics.
Search results revealed that the word 'pneumonia' is found in 239 song lyrics, which is a rather modest number when compared to the word 'jealous', which is found in 3879 lyrics, and 'love', which found in 324,016 lyrics. Pneumonia, however, clearly outperforms the other diseases suggested by Virginia Woolf: (novels devoted to) influenza, 29; (epic poems to) typhoid, 11; and (lyrics to) toothache, 73. In her essay she suggested "love and jealousy are states that spark the language but that the sufferer has the pain in his head but the language runs dry" [1]. This suggestion of the experience of pain overruling the ability to of language to adequately describe it warrants an analysis of the language that is used in songs about pneumonia.
"I got a rocking pneumonia, I need a shot of rhythm and blues" [2] is a famous line from the song "Roll over Beethoven", a Chuck Berry original (1956) which has been covered by many others, including The Beatles (1963) and Electric Light Orchestra (1973). Briefly, to highlight one way in which an understanding of pneumonia in lyrics can be utilized in an academic setting, Chuck Berry's lyric about pneumonia could be used in a creative multiple-choice question in an immunology or microbiology exam, structured as follows:
Streptococcus pneumoniae can cause a) otitis media, b) meningitis, c) pneumonia and d) bacteremia. Which one of these four manifestations of a pneumococcal infection did Chuck Berry have for which he needed a shot of rhythm and blues?
We have put this question to bachelor students at the University College Roosevelt (The Netherlands) and the frequency distribution of the answers is an almost perfect 25% for each possibility, so the general knowledge of university students of classical rock and roll song texts appears to be limited. It can only be hoped that their knowledge of the pneumococcus is better.
Chuck Berry's "Roll over Beethoven" was recorded in 1956 (Fig.
1
). The top position the song reached in the Billboard Hot 100 was a modest 29th place. About a year later, "A Rockin' Pneumonia and the Boogie Woogie Flu" by Huey Smith and his Clowns made its first appearance on Billboard's rhythm and blues chart. In his biography, Huey Smith admits that he had heard Chuck Berry sing "I got the rocking pneumonia, I need a shot of rhythm and blues" [
3
]. He was inspired to use this term and added "the boogie woogie flu" himself.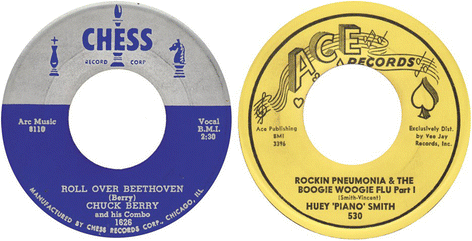 As indicated above, a number of songs have been published since Chuck Berry's "Roll over Beethoven", dealing with many aspects of pneumonia. Below, we analyze lyrics that deal with the cause of pneumonia, risk groups, comorbidity (the boogie woogie flu), the clinical symptoms, and treatment and outcome.
(1)
Science Department, University College Roosevelt, P.O. Box 94, 4330 AB Middelburg, The Netherlands