Anatomical site-specific contributions of pneumococcal virulence determinants
Received: 29 November 2015
Accepted: 23 May 2016
Published: 3 June 2016
Abstract
Streptococcus pneumoniae is an opportunistic pathogen globally associated with significant morbidity and mortality. It is capable of causing a wide range of diseases including sinusitis, conjunctivitis, otitis media, pneumonia, bacteraemia, sepsis, and meningitis. While its capsular polysaccharide is indispensible for invasive disease, and opsonising antibodies against the capsule are the basis for the current vaccines, a long history of biomedical research indicates that other components of this Gram-positive bacterium are also critical for virulence. Herein we review the contribution of pneumococcal virulence determinants to survival and persistence in the context of distinct anatomical sites. We discuss how these determinants allow the pneumococcus to evade mucociliary clearance during colonisation, establish lower respiratory tract infection, resist complement deposition and opsonophagocytosis in the bloodstream, and invade secondary tissues such as the central nervous system leading to meningitis. We do so in a manner that highlights both the critical role of the capsular polysaccharide and the accompanying and necessary protein determinants. Understanding the complex interplay between host and pathogen is necessary to find new ways to prevent pneumococcal infection. This review is an attempt to do so with consideration for the latest research findings.
Keywords
Streptococcus pneumoniae PneumococcusPathogenesisVirulenceHost-pathogen interactions
Background
Streptococcus pneumoniae (pneumococcus) is a Gram-positive, lancet-shaped bacterium that has diplococci morphology, is typically encapsulated, and is non-motile. In most instances S. pneumoniae resides asymptomatically in the nasopharynx of healthy individuals [1]. Yet this opportunistic pathogen is associated with devastating morbidity and mortality in vulnerable populations such as young children, the elderly, and those who are immunocompromised [2, 3]. S. pneumoniae is capable of causing a myriad of diseases including sinusitis, conjunctivitis, otitis media, and pneumonia, also invasive diseases such as bacteraemia, sepsis, and meningitis [1, 2]. Worldwide, it is the leading cause of death in young children and of infectious death in the elderly [3, 4]. Although the incidence of disease that develops in carriers is generally low, the vast numbers of colonised individuals make S. pneumoniae a major burden with significant socio-economic costs. For all these reasons, efforts to create a viable vaccine against S. pneumoniae date back as far as 1911 [5].
S. pneumoniae virulence determinants can be divided into 3 categories: capsule, cytotoxic products, and surface proteins. The extracellular capsule is a structure of complex sugars that surround the bacteria and form a protective barrier. On the basis of the biochemical composition and the serology of the polysaccharide, pneumococci are classified into 97 distinct capsular serotypes [6]. The capsule allows the pneumococcus to evade mucociliary clearance, complement deposition, and opsonophagocytosis [7, 8]. A critical role for the capsule is highlighted by the fact that antibodies specific to a capsule type are highly protective against invasive pneumococcal disease by strains belonging to the same serotype [9, 10]. As such, development of antibodies against the capsule is the basis of the current vaccines that are composed of polysaccharides conjugated to protein, and the older vaccine formulations that were composed solely of purified capsular polysaccharides [11]. Importantly, extensive epidemiological evidence suggests that pneumococci belonging to different serotypes vary in their prevalence and propensity to cause invasive disease. Isolates belonging to serotypes 6A, 6B, 19F, and 23F were found to be more prevalent colonisers of children younger than 5 years of age, while isolates belonging to serotypes 3, 9, and 23F were more common in adolescents and adults before the introduction of the first conjugate vaccine [12, 13]. On the contrary, serotypes 1, 4, 5, and 7F (which are known to be more invasive) colonise the population to a lesser degree [14, 15]. The current conjugated vaccines are composed of the polysaccharides that are most commonly carried by strains that cause the bulk of disease in humans.
It is important to note that the introduction of the 7-valent pneumococcal conjugate vaccine (PCV7) covering serotypes 4, 6B, 9 V, 14 18C, 19F, and 23F in the year 2000 reduced the incidence of invasive pneumococcal disease (IPD) in children of countries that implemented the vaccine [10, 16–19]. Yet, PCV7 had only a modest effect in reducing the incidence of otitis media caused by the PCV7-covered pneumococcal serotypes [20]. Moreover, there has been a rise in the incidences of infections caused by non-PCV7-covered serotypes [21, 22], a phenomenon known as serotype replacement. To address this problem, a 13-valent pneumococcal conjugate vaccine (PCV13) covering 6 additional serotypes (1, 3, 5, 6A, 7F, and 19A) was introduced in 2010. Despite the elevated effectiveness of PCV13, reports of continued serotype replacement by non-PCV13 pneumococcal serotypes have been documented [23, 24]. Recently, a 15-valent pneumococcal conjugate vaccine containing the serotypes in PCV13 and an additional 2 serotypes (22F and 33F) has been developed to address this shift and further curb pneumococcal carriage and invasive disease [25]. Importantly, recent epidemiological studies suggest there is also a rise in the number of individuals colonised with non-encapsulated S. pneumoniae [26]. This is presumably driven by both vaccine and antibiotic selective pressures, although increased sensitivity in our detection methods may account for increasing numbers. The importance of these non-encapsulated strains to human health is an open question. What is more, their impact may be indirect, for example they may act as a reservoir of antibiotic resistance genes for encapsulated strains [27].
The capsule by itself cannot be signed off as the sole virulence determinant responsible for human disease. More than 60 years of evidence suggests that the toxin pneumolysin (Ply) and diverse surface proteins are involved in tissue damage, modulation of the host response, immune evasion, and adhesion and invasion of cells and tissues [28, 29]. This requirement for non-capsular determinants is reinforced by observations that show: (i) isogenic capsule serotype-switching does not always confer virulence [30]; (ii) clinical isolates of S. pneumoniae belonging to the same serotype vary in their ability to cause disease [31]; and (iii) isogenic deletion of protein determinants can drastically attenuate the ability of S. pneumoniae to progress from one anatomical site to the next [32]. When considering all of these factors together, one must conclude that pneumococcal virulence is the result of the right combination of capsule, cytotoxic factors produced, and surface protein virulence determinants.
This review will discuss how different pneumococcal determinants impact the disease progression in an anatomically site-specific manner. To understand the mechanisms of pneumococcal evasion of the immune system it is necessary to understand anti-pneumococcal mechanisms of innate and adaptive immunity in the host.
Pneumococcal colonisation of the respiratory mucosa
Systemic pneumococcal infection
Pneumococcal invasion of epithelial cells and endothelial cells
Pneumococci are capable of gaining entry into systemic circulation by translocation across respiratory epithelium and endothelial cells using two major mechanisms: intracellular migration and inter- or paracellular migration. ChoP acts as a molecular mimic of platelet-activating factor (PAF) and binds to PAFR on activated epithelial and endothelial cells, providing the bacterium with access via the PAFR recycling pathway [51]. This requires simultaneous interaction of CbpA with the LR [52], and allows pneumococcal migration to the basal membrane of host cell within vacuoles [51, 150]. Furthermore, CbpA also binds to the extracellular region of pIgR on the epithelial cell surface [42, 50]. This CbpA-pIgR interaction allows the pneumococcus to co-opt to the pIgR recycling pathway, and results in pneumococcal translocation within a vacuole towards the basal membrane of the epithelial cells [42, 151]. Of note, a study using 20 capsule-switched variants of S. pneumoniae TIGR4 strain found that successful pneumococcal invasion was highly dependent on the right combination of capsular serotype and CbpA, which together conferred resistance to complement recruitment and activation resultantly abrogating neutrophil opsonophagocytosis [152].
Inter- or paracellular migration of pneumococci across the epithelial and endothelial respiratory barrier can occur in two ways. Pneumococcus-bound plasminogen enhances pneumococcal adhesion to epithelial cells and endothelial cells, leading to cleavage of the intercellular cadherin junctions and allowing intercellular migration of pneumococci [153]. The recognition of pneumococcal cell wall lipotechoic acids by TLR2 is also shown to induce loss of epithelial barrier polarity by activation of p38 MAPK and transforming growth factor beta pathways, further promoting invasion [154]. Ply-mediated damage to the tissue barrier can also facilitate pneumococcal entry into the systemic circulation, enhancing invasion [67]. An important role for paracellular invasion has been demonstrated by the testing of type I interferon knockout mice that do not up-regulate tight junctions in response to bacterial infections. These mice developed bacteraemia at a rate considerably higher than their wild-type controls [155].
Resistance to complement activation
Within the consolidated lungs and once pneumococci enter the bloodstream they are faced with a wide barrage of antibacterial host defense mechanisms. Typically, the innate immune mechanisms composed of the complement system, C-reactive proteins (CRPs), and phagocytic cells such as neutrophils and macrophages are considered to be of primary importance. The importance of complement systems in protection against pneumococcal infection is evidenced from the high susceptibility of mice and humans to pneumococcal infections when certain complement components are experimentally depleted or genetically deficient [156, 157]. Activation of the complement system involves recognition of specific molecular patterns on pathogens, a cascade of proteolytic cleavage involving several complement factors followed by bacterial killing, either by recruitment of the membrane attack complex or by opsonophagocytosis [158].
The complement system is comprised of 3 cascade pathways: the classical complement pathway, the alternative complement pathway, and the lectin-induced complement pathway. Naturally produced IgM specific against pneumococcal techoic acid and acute phase proteins (such as CRPs directed against ChoP in the pneumococcal cell wall) initiates complement subcomponent C1q deposition on the bacteria, inducing the classical complement pathway [159, 160]. The alternative complement pathway is induced against pneumococci by the direct interaction of the complement C3 with the pneumococcal cell wall, leading to C3b deposition on the bacterial surface [161, 162]. The lectin-induced complement pathway plays a less vital but still important role in protection against pneumococcal disease. Among the various lectins such as mannan-binding lectin, H-, L-, and M-ficolin, only L-ficolin and M-ficolin were found to activate the alternative complement cascade against the pneumococci. While L-ficolin bound to 3 capsulated S. pneumoniae serotypes (11A, 11D, and 11F) and ChoP moieties of the pneumococcal cell wall [163], M-ficolin bound to the extra N-acetylmannosamine residue linked via glycoside linkage within the capsules of 2 strains of S. pneumoniae serotype 19 (19B and 19C) [164]. Activation of the C1q by the classical or lectin-induced complement cascades leads to cleavage and activation of complement component C2, which then in combination with the activated fragment of C4 elicits C3b deposition [158]. Deposition of complements and CRPs enhances phagocytosis and induces cytokine production by immune cells [165, 166]. Splenic and liver resident macrophages have been reported to play a role in pneumococcal killing within systemic circulation and thus dampening the spread of bacteraemia [167].
The pneumococcal capsule blocks complement-mediated opsonophagocytosis by impairing the efficient binding of complement components on the bacterial surface, preventing proteolytic conversion of C3b to iC3b, and masking the cell-bound complements, thus hampering access of phagocytes to the opsonising complements [7]. The contribution of capsular serotypes in pneumococcal resistance to complements was reaffirmed when capsular serotype-switched S. pneumoniae TIGR4 background mutants showed different levels of susceptibility towards complement mediated opsonisation [168]. While capsular serotypes 6A and 23F strains on TIGR4 background showed more predisposition towards C3b/iC3b deposition and neutrophil phagocytosis, the capsular serotypes 4 and 7F strains on TIGR4 background showed resistance towards complement-mediated immunity and were more virulent in a mouse model of sepsis [168]. Additionally, pneumococci express a number of cell surface proteins that limit opsonisation-mediated killing. CbpA is capable of inhibiting opsonisation-mediated killing by binding and activating the complement regulatory protein factor H and thus inhibiting the alternative and lectin pathways [169], in addition to binding C4-binding protein and inhibiting the classical complement pathway [170]. However, the contribution of CbpA-mediated inhibition of complement cascade to pneumococcal infections is highly strain dependent. While CbpA deletion abrogated the virulence of S. pneumoniae serotype 4 strain TIGR4, the virulence of serotypes 2, 3, and 19F strains remained unaffected [171]. Isogenic capsule-switched strains on S. pneumoniae TIGR4 background showed large increases in deposition of factor C3b/iC3b on capsule-switched serotypes 4, 6A, 6B, and 9 V strains, but no significant difference in deposition on serotypes 2, 3, 17, and 23F strains [172]. This further bolstered the notion that pneumococcal virulence is mediated by a complex interplay between capsule and protein virulence determinants.
PspA is a key pneumococcal surface protein that inhibits C3 binding on the surface of
S. pneumoniae
, avoiding complement-mediated opsonophagocytosis (Fig.
1
) [
173
,
174
]. PspA and PspC work synergistically to reduce this complement-mediated immune adherence and permit pneumococcal persistence in circulation [
175
] while PhpA is a surface-expressed protein capable of degrading C3 [
176
,
177
]. As indicated previously, Ply is known to inhibit complement-mediated pneumococcal clearance by binding to the Fc portion of IgG, thus activating the classical complement pathway and sequestering complement factors away from the bacteria [
178
]. NanA, BgaA, and StrH have also been implicated in resistance to complement C3-mediated opsonophagocytosis in addition to their role in aiding pneumococci breach the nasopharyngeal epithelium barrier; this is via the deglycosylation of key host effector molecules [
179
].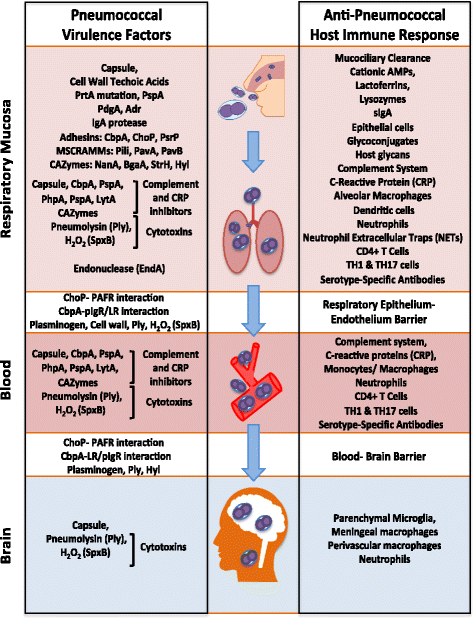 Resistance to CRP
CRP is an acute phase protein produced by the liver in response to IL-6 and other pro-inflammatory cytokines generated during systemic acute infection [180]. Epithelial cells in human respiratory tracts have also been reported to secrete CRP, thus serving as important players in the innate immune mechanisms against pneumococci [181]. During pneumococcal infections, CRP binds to ChoP on the pneumococcal cell wall resulting in the activation C1q [160]. PspA binds to ChoP moieties on the pneumococcal cell surface, competitively inhibiting the interaction of CRP with the cell wall [182]. Recent evidence suggests that the dominant pneumococcal autolysin LytA also prevents interaction of C1q and CRP, further reducing classical complement system activation [183]. In addition, LytA was also demonstrated to increase recruitment of complement inhibitors C4b-binding protein and factor H to the pneumococcal cell wall and actively degrade C3b and iC3b [183].
Invasion of tissue from the bloodstream
Pneumococcal meningitis
Systemic spread of S. pneumoniae within the circulation allows pneumococci access to the small blood vessels within organs. In the cranium, this provides access to, and can lead to translocation across, the blood–brain barrier into the subarachnoid space leading to bacterial meningitis. Worldwide, pneumococcal meningitis causes more than 50,000 deaths each year in children aged 5 years or younger. Those that survive often have long-term disabilities [184]. Pneumococci have been shown to translocate across the brain microvascular endothelial cells by binding to the vascular endothelial PAFR and LR, in a ChoP- and CbpA-dependent manner, similar to that previously described in pneumococcal invasion of epithelial cells [52, 185]. A recent study also reports that pIgR is present on the surface of brain microvascular endothelium; thus invasion may occur in this manner as well [186]. Importantly, adhesion to LR seems to have a conserved role in the pathogenesis of other neurotropic pathogens such as Neisseria meningitidis, and Haemophilus influenzae [52]. In addition to the intracellular translocation pathway, it is speculated that pneumococci also migrate across the vascular endothelial cell linings by disrupting the intercellular tight junctions during severe disease episodes. S. pneumoniae can bind and activate plasminogen in blood and cerebral spinal fluid, resulting in adhesion and damage to the extracellular matrix in in vitro models of bacterial meningitis and affected patients [187, 188]. Furthermore, pneumococci use hyaluronate lyase to digest various components of the intercellular milieu and host extra-cellular matrix, including hyaluronic acid, chondroitin and/or chondroitin sulfates to breach the blood–brain barrier [189]. Alternatively, it is thought that pneumococci may gain access through the sinuses and olfactory nerves following colonisation, in this instance causing occult meningitis (i.e., meningitis without airway or bloodstream infection) [190].
Once within the central nervous system, S. pneumoniae can cause damage to the brain microvascular endothelial cells during the course of pneumococcal meningitis [191]. Much of this ability to destroy the endothelial cell layer guarding the blood–brain barrier is attributed to pneumococcal Ply-mediated cytotoxicity in addition to the pneumococcal cell wall [192, 193]. The pneumococcal cell wall, and autolysis-mediated-Ply release induces a massive inflammatory response in the central nervous system [194]. Ply and hydrogen peroxide produced by the activity of SpxB contribute to the maximal neuronal apoptosis by caspase-dependent and independent mechanisms [195, 196]. Pneumococcal-mediated inflammatory damage incites the production of a wide array of cytokines that recruit immune cells to the site of pneumococcal infiltration. Neutrophils and other immune leukocytes have been found in spaces adjacent to subarachnoid arteries, meningeal veins, and also cerebral spinal fluid compartments like the subarachnoid spaces, meninges, and the corpus callosum of the brain in experimental meningitis models [197, 198]. Activated neutrophils secrete nitric and oxygen species [199], which may also contribute to neuronal damage, associated with pneumococcal meningitis.
Pneumococcal cardio-invasion
Recently, our laboratory has reported that during invasive pneumococcal disease, S. pneumoniae circulating in the bloodstream are capable of invading the ventricular myocardium where they form bacteria-filled microscopic lesions (cardiac microlesions) [200]. These cardiac microlesions were accompanied by Ply-mediated cardiomyocyte death and aberrant cardiac functionality [200]. Similar to pneumococcal invasion of the blood–brain barrier, myocardial invasion was found to be dependent on ChoP-PAFR and CbpA-LR interaction [200]. The pneumococcal cell wall can bind to endothelial cells and cardiomyocytes in a PAFR-dependent manner, effectively exciting the cardiac vasculature and disrupting cardiac contractility, ultimately causing cell death [201]. Systemically circulating Ply also contributes towards the IPD-associated cardiac damage [202]. This IPD-associated cardiac damage might be responsible for the adverse cardiac events that occur in up to 25 % of all elderly patients suffering from community-acquired pneumonia [203, 204].
Conclusion
This review highlights the various host–pathogen interactions associated with S. pneumoniae infection (Fig. 1). Understanding the basic pneumococcal biology and the complex link between its different virulence determinants will hopefully provide the insight necessary to solve the S. pneumoniae problem. Despite considerable variability known to exist between experimental challenge in animal models and pneumococcal infections of human populations, significant progress has been made towards this end. Further work and its translation to new and useful therapeutics is still required.
Search strategy
The articles relevant to this review were identified by searching PubMed and Google Scholar for research papers and reviews (published in English only) including but not limited to "Streptococcus pneumoniae", "pneumococci", "pneumococcal", "pneumonia", "otitis media", "virulence" and "pathogenesis". To allow use of complete and detailed information no limits on date of publications were placed during the search. More suitable citations were further identified from the references in these initial searches.
Abbreviations
Adr, an O-acetyl transferase; AMPs, antimicrobial peptides; BgaA, beta-galactosidase A; CAZymes, carbohydrate-active enzymes; CbpA/PspC, choline-binding protein A; ChoP, pneumococcal cell wall phosphorylcholine; CpG DNA, unmethylated CpG nucleotide sequences in bacterial DNA; CRPs, C-reactive proteins; EndA, pneumococcal surface endonuclease; G-CSF, granulocyte colony stimulating factor; Hyl, hyaluronate lyase; IFN-γ, interferon gamma; IgG, Immunoglobulin G; IgM, Immunoglobulin M; IL, interleukins; IPD, invasive pneumococcal disease; KC, killer cells; LR, laminin receptor; LytA, pneumococcal autolysin A; MARCO, macrophage receptor with collagenous structure; MSCRAMMS, microbial surface components recognising adhesive matrix molecules; NanA, neuraminidase A; NETs, neutrophil extracellular traps; NLRP3, NLR family, pyrin domain containing 3 protein; Nod2, Nucleotide-Binding Oligomerization Domain Containing 2; p38 MAPK, p38 mitogen-activated protein kinase signaling cascade; PAF, platelet-activating factor; PAFR, platelet-activating factor receptor; PavA, Pneumococcal adhesion and virulence protein A; PavB, Pneumococcal adhesion and virulence protein A; PcpA, Pneumococcal choline binding protein A; PCV13, 13-valent pneumococcal conjugate vaccine; PCV7, 7-valent pneumococcal conjugate vaccine; PdgA, N-acetylglucosamine deacetylase; PhpA, histidine triad protein A; PI-1, Pilus islet-1; PI-2, pilus islet-2; pIgR, polymeric immunoglobulin receptor; Ply, pneumolysin; PRRs, pattern recognition receptors; PrtA, pneumococcal serine protease; PspA, pneumococcal surface protein A; PspK, pneumococcal surface protein K; PsrP, pneumococcal serine rich repeat protein; sIgA, secretory immunoglobulin A; SpxB, pneumococcal pyruvate oxidase; SRAs, class A macrophage scavenger receptors; StrH, beta-N-acetylgucosaminidase; Th cells, T-helper cells; TLRs, Toll-like receptors; TNF-α, tumor necrosis factor alpha
Declarations
Funding
CJO is supported by National Institutes of Health (NIHAI114800). The funder had no role in the design of this review, compilation and interpretation of material, decision to publish, or preparation of the manuscript.
Authors' contributions
All the authors met ICMJE authorship criteria. ATS, CJO generated and designed the research plan. ATS wrote the first draft of the manuscript. CJO reviewed the manuscript for important intellectual content. Both ATS and CJO contributed equally to the figure. ATS, CJO agree with the manuscript's results and conclusions. ATS, CJO approved the final version of the manuscript.
Competing interests
The authors declare that they have no competing interests.
Open AccessThis article is distributed under the terms of the Creative Commons Attribution 4.0 International License (http://creativecommons.org/licenses/by/4.0/), which permits unrestricted use, distribution, and reproduction in any medium, provided you give appropriate credit to the original author(s) and the source, provide a link to the Creative Commons license, and indicate if changes were made. The Creative Commons Public Domain Dedication waiver (http://creativecommons.org/publicdomain/zero/1.0/) applies to the data made available in this article, unless otherwise stated.
Authors' Affiliations
(1)
Department of Microbiology, The University of Alabama at Birmingham, South Birmingham, USA